Hello friends,
Think you know Quantum Jumping? Think again
Read my special report below where I reveal quite possibly the most controversial and exciting idea I've ever shared with you about Quantum Jumping and Past Life Regression.
I'll also reveal how you can, once and for all, lift the "Invisible Anchors" that are weighing you down in life.
Before you click the link below to download the report, sit back, relax and take a deep breath because what you're about to find out could forever change the way you view your current reality.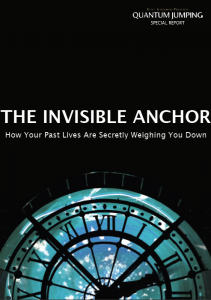 Also, I would like you to answer the following questions in the comment section below:
1) Do you believe you have an Invisible Anchor? Tell me your story.
2) If there was a way to remove that Invisible Anchor once and for all, would you want to learn how? Why or why not?
3) What specific questions do you have about Past Life Regression or my upcoming Quantum Jumping Past Life Regression Program?
In a few days, I will be post up my audio responses to some of your most pressing questions on Past Life Regression. Stay tuned
Sincerely,
Burt